Events Sponsorship Scheme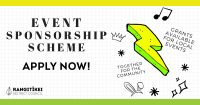 Round 1 of the 2023/24 year is open
Round 1 of the 2023/24 year opens 28 April 2023 through to 04 August 2023.
This is a Council fund intended to support events in the district that help to develop community cohesion and reinforce economic growth. The fund is awarded by the Finance/Performance Committee.
There are three main categories of events: high profile, community, or high profile community events. Applications are open to groups (not individuals) whose events take place within the Rangitīkei, and that are not funded by the Rangitīkei District Council ratepayers through other means. The impact of high profile events on the local economy will be measured and reported upon.
There are normally two funding rounds per year, and there is $50,000 in the fund for distribution (shared across both funding rounds). There is a maximum cap of 50% of eligible costs that can be funded.

Application Guidelines: Events Sponsorship Applicant Guidelines
You can access the application form here:
This is now an online application and reporting process via Smartygrants.
If you need assistance in completing your form, please contact us by:
visiting the Council's offices at 46 High Street, Marton or 102 Hautapu Street, Taihape
phoning the Council on 0800 422 522 or emailing info@rangitikei.govt.nz
---
Results for 2022/23
Round 1

New Zealand Country Music Community Trust
Taihape Horse Society
Taihape Area Dressage Group
Rangitikei Shearing Sports Inc - Marton Show
Doors Open Marton
Round 2

South Makirikiri Friends of the School
Gumboots Brass and Wind Ensemble