Rangitīkei District Council celebrates first post-COVID citizenship ceremony
November 03, 2022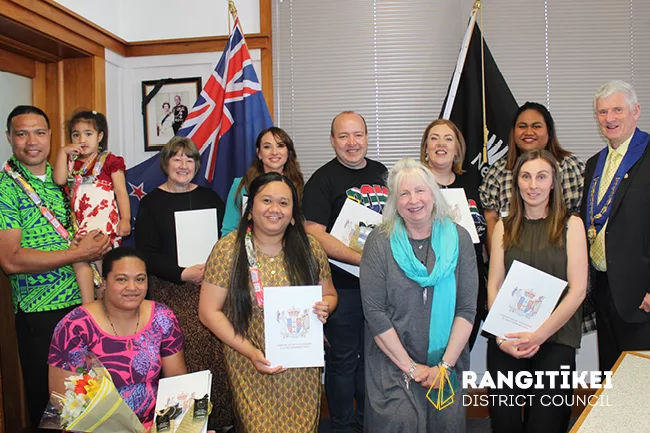 Rangitīkei District Council have held their first in-person citizenship ceremony since May 2021, welcoming new New Zealanders during the event at the Council Chambers in Marton yesterday.
Rangitīkei District Council Mayor Andy Watson says the in-person ceremonies are an important milestone for those who have applied for citizenship.
"A public citizen ceremony is a very important step in the process of becoming a New Zealand citizen, and it's something we've been unable to do face-to-face due to the COVID-19 pandemic. It's a great feeling to have welcomed our new citizens and to celebrate together."
The citizenship ceremony saw new citizens from eight countries welcomed, including Russia, The United States of America, Samoa, Canada, England, Ireland, American Samoa and South Africa
Citizenship Ceremonies are public ceremonies where applicants stand before the Mayor or other officials, swear an Oath or Affirmation of Allegiance and receive their citizenship certificate. The next Citizenship Ceremony in Rangitīkei will be held in February next year.
"Mā te whiritahi ka whakatutuki ai ngā pūmanawa ā tāngata" - "Together weaving the realisation of potential"