Rangitīkei District Council Chief Executive returns to Christchurch
May 17, 2023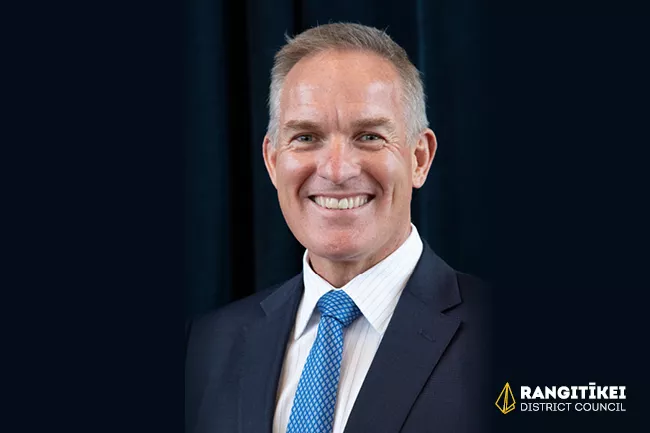 Rangitīkei District Council Mayor Andy Watson has announced today that Chief Executive Peter Beggs has tendered his resignation and will be leaving Council on 18 August 2023.
Beggs, who has been in the role since 2019, is returning to Christchurch to take up a Chief Executive position with Apollo Projects.
Mayor Andy says that while Council is sad to see Peter go, they understand the motivation to grow his career and to be closer to his family and has accepted his resignation on that basis.
"Peter has achieved a lot during his time with us and is regarded as having made significant progress in Council Health and Safety and Staff culture. Peter has been a key advocate for Rangitīkei when it came to the Three Waters Reform and established a Project Management Office to manage key Council projects. We wish him well in his new role, and thank him for his service to our community"
Beggs says that his time being part of the Rangitīkei District Council has been an honour.
"I have truly loved working for Council, and I am very proud of the huge improvements we have made for the benefit of our community, and the work of my colleagues and staff. This was not an easy decision to make, but it is an exciting career opportunity for me to lead Apollo Projects as they continue to grow, while at the same time allowing me to be closer to my partner and my children."
As the Council looks to the future, Mayor Andy says that it is an exciting time for any incoming Chief Executive.
"Rangitīkei is experiencing significant growth, and is projected to reach a population of 25,000 people by 2050 - almost 9,000 more people than live here today. We have several capital projects that are coming to fruition and we are making plans that will change how our communities look in future years.
"Over the coming months, Council will look to appoint an interim Chief Executive to take over from Peter while a recruitment process is underway. We will keep the community informed about this as it happens."