Welcoming Communities
Te Waharoa ki ngā Hapori Rangitīkei

At Rangitīkei District Council we are passionate about making this place home. We work with our communities, iwi and stakeholders to create a welcoming and inclusive district for all.
In July 2021 we successfully applied to join Welcoming Communities, an Immigration New Zealand initiative that supports local councils and their communities to put out the welcome mat for newcomers.
Whether you're moving from the deep south, the far north, or joining us from abroad – immigrants, former refugees, or international students – Rangitīkei is an inclusive and welcoming place to call home.
---
A Word from the Mayor
Anyone lucky enough to already live in the Rangitīkei know what makes this place special – the land,the people, the way of life. We enjoy sharing these things with our friends and family.
We know that new residents, both from other parts of the country and from around the world, choose to settle here because they share an appreciation for what the Rangitīkei has to offer. We have many reasons to be optimistic, including the significant growth in our district over the last few years.
New residents are starting businesses, working for local organisations, attending local schools,and volunteering their time in the community, all of which contribute to the vibrancy of the Rangitīkei. As a district, it is important that we connect with our new residents to create a shared understanding and appreciation of each other, allowing us to build strong and positive communities.
We believe that everybody deserves to live in a place that feels like home. I am excited to see how the foundations laid in the Welcoming Communities Welcome Plan 2023 will allow new residents and the existing community to build that home together.
Ngā mihi, Andy Watson - Mayor of Rangitīkei.
---
Have you moved to Rangitīkei from somewhere else?
The Welcoming Communities team would like to hear about your experiences as a newcomer in our district. Send us an email about your experience moving to the Rangitīkei so we can make our community more welcoming to newcomers in the future.

---
Why did Rangitīkei District Council join this programme?
Our District is experiencing unprecedented growth both economically and in population. With a number of new developments, economic ventures and business expansions we're expecting newcomers from other parts of New Zealand and beyond, and we're taking active steps to make our District even more welcoming to them.
---
What makes a community welcoming?
Communities that make newcomers feel welcome are likely to enjoy better social outcomes, and stronger economic growth. In this environment, everyone is able to participate in the economic, civic, cultural and social life of the community.
The Welcoming Communities Standard guides local Councils by identifying eight outcome areas that are important to creating a welcoming and inclusive environment: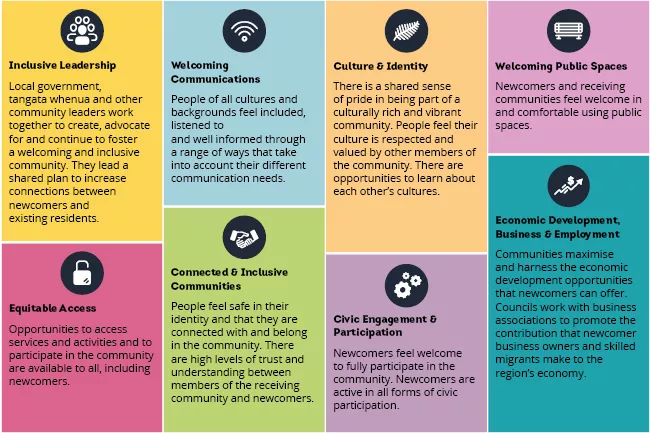 Welcoming Communities 8 Outcomes
All participating Councils work with their communities to develop a Welcome Plan which sets out a range of actions over a set period, and identifies who will lead them, to deliver on these outcome areas.
Want to get involved?
The whole community is invited to be a part of the Welcoming Communities Rangitīkei programme with us - and that means YOU! Keep an eye on our Facebook page see what's happening and where you might like to participate.
---
Contact
If you have ideas, feedback, or questions, I'd love to hear from you!
Please get in touch with us any time on 0800 422 522 or welcomingcommunities@rangitikei.govt.nz
---
More information