Marton Market Day 2022
October 07, 2022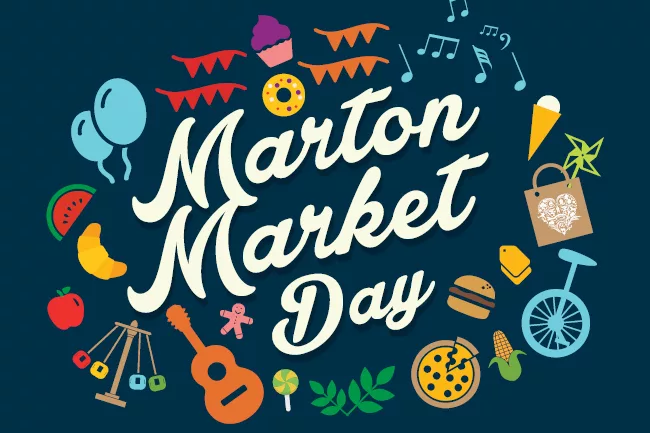 Ever popular Market Day returns to Marton
Rangitīkei District Council's annual Marton Market Day will be back to take over Marton's town centre on Saturday 12th November.
The market day, which saw up to 10,000 people turn out in 2019 and 2020, is one of the biggest events in the Rangitīkei district.
Taking place on Follett Street, Broadway, and Marton Park, Rangitīkei District Council's District Promotions Strategic Advisor Jen Britton, says this year's market day is a must-do on everyone's calendar.
"With over 200 stall sites, epic street entertainment, mouth-watering kai, and loads of free family fun, this event day truly has something for everybody. Make sure to lock it into your calendar!
"Whether you're looking for some new clothes for the kids, some Christmas gifts for the whānau, or you just want to sit back and enjoy the live music and entertainment, you'll find what you're looking for at Marton Market Day."
Britton says that Marton Market Day is a great opportunity to bring everyone together again following the events of the past two years.
"It seems that 2021 was the year for mass event cancellations - but this year we're excited to be coming back to the town centre and we can't wait to bring the whole community together on this epic day out!"
Britton says that this year's event comes with a twist.
"This year we're really excited to be bringing Big Boys Toy Alley down to Follett Street where we'll have Urban and Rural Fire and Civil Defence set up, vintage cars, and lots of trucks and interactive machinery."
"We are bringing our A-game with entertainment again this year too! Alongside our usual street performances including the roving circus acts, we'll also have two stages of music with talent coming from near and far!"
Marton Market Day will be held from 9am to 3pm on Saturday 12th November 2022. Entry is free. For more information please visit www.martonnz.com.