Memorial tree to be planted in place of old Conifer at Marton Park
October 04, 2022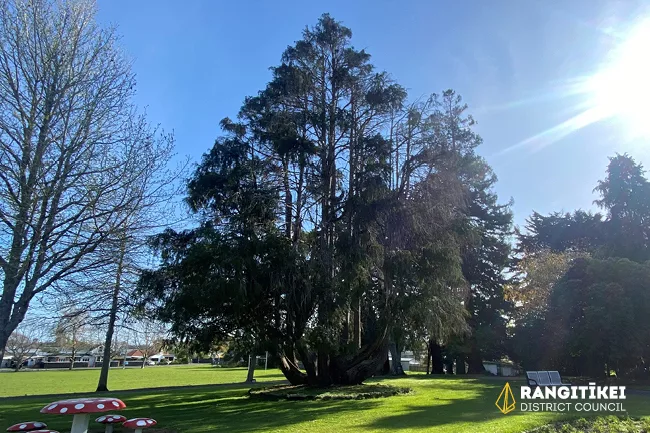 On Wednesday 5 October, Rangitīkei District Council will be removing the large Conifer tree in Marton Park due to a significant decline in its health over the past few years.
The tree will be replaced in coming weeks by a memorial tree for the late Queen Elizabeth II.
Rangitīkei District Council Parks and Reserves Manager, Murray Phillips, said that the Council needed to remove the existing tree for public safety.
"We never like to remove trees from our parks, especially when they are so large. However, as the tree is in decay - which is quite visible to see - arborists have advised it's not safe to leave it in place at the park. "
Once removed, workers will remain on site to grind down the stump and ready the site for a new tree to be planted.
"Given the events of the past few weeks, we thought that this would be a perfect opportunity to remember the life and service of Her Majesty, Queen Elizabeth II. The memorial tree is a Copper Beech that is in our nursery and is not currently found in Marton Park.
"We will set a date for this following our local body elections and will invite the community to join us, alongside Ngā Wairiki Ngāti Apa and the Marton RSA, for this special planting."