New partnership to provide pathway to home ownership
September 19, 2022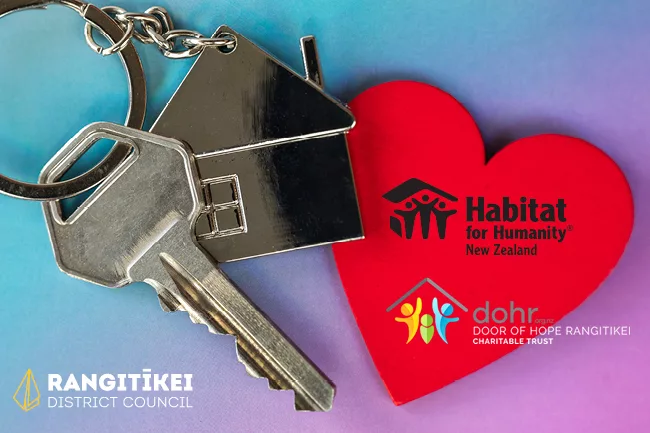 On Thursday 18 August, a partnership agreement was signed between Door of Hope Rangitīkei Charitable Trust (DoHR) and Habitat for Humanity NZ (Habitat).

Involving both parties, the partnership will work towards providing warm and safe rental housing, as well as a pathway to home ownership for qualifying families in need in Rangitīkei.
Rangitīkei District Mayor Andy Watson has congratulated the Door of Hope Rangitīkei Charitable Trust for their tenacity in getting this agreement over the line.
"The partnership opens up so many opportunities for future funding and Council is pleased to be part of the relationships working towards understanding the District's housing needs and how best we move forward".
An emerging not-for-profit Community Housing Provider, DoHR is dedicated to the provision of social, rental and privately-owned housing in Rangitīkei. Habitat is a well-established, national Community Housing Provider delivering on the vision of "a world where everyone has a decent place to live".
Habitat's Chief Executive for the Central Region, Nic Greene, says, "Habitat is delighted to be partnering with Door of Hope to provide affordable housing to the community. Habitat has a long history of providing housing to communities of need and look forward to doing that in the Rangitīkei District."
Mark Taylor, the Chairman of DoHR, states,"partnering with Habitat for Humanity NZ is a significant step forward for Door of Hope. The knowledge, experience and leverage borne of the years of success that Habitat has had in delivering housing to other parts of the country is now available to us here in Rangitīkei. Watch this space."
DoHR is currently inviting the submission of Expressions of Interest from low-middle income families who would like to own their own home in Taihape, Marton or Bulls:
Local employers who want to assist their employees into home ownership are also being encouraged to contact DoHR.