Community Volunteer Awards 2023 nominations are open!
December 15, 2022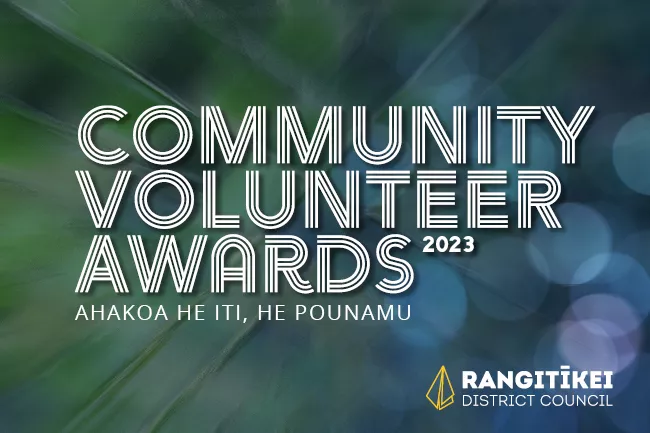 We've had some requests from the community asking us to recognise those who go above and beyond for our district. Well, get ready Rangitīkei! Because for the first time in 2023, we're bringing together the inaugural Community Volunteer Awards!
The Community Volunteer Awards 2023 offer an opportunity to recognise all the wonderful volunteers we have in our community who have contributed significantly to the community service, welfare, sport and recreation, culture, arts and education sectors.
As this is our first-ever award ceremony we want to make sure we recognise current and past achievements, so we're opening up our nominations to anyone who has made a significant contribution over the last few years.
If you know someone who should be recognised for their efforts, someone who gives up their time and always goes that extra mile to make our community a better place - make sure to nominate them for the Community Volunteer Awards 2023.
A Mayoral Award will also be presented at the ceremony by the Mayor. This award is chosen by the Mayor at his discretion and may include a posthumous award.
Our judges will select the finalists, and winners will be announced in March 2023 and acknowledged on a plaque in the Marton Civic Centre.
Nominations close at 5pm on Monday 6th February 2023.
To make your nomination visit our webpage here.
Ahakoa he iti, he pounamu – Tiny treasures are of great value.
The Community Volunteer Awards 2023 is an initiative brought to you by Mayor Andy Watson and Rangitīkei District Council Chief Executive Peter Beggs.