Council seeks further input on proposed Forestry Differential rate
October 27, 2022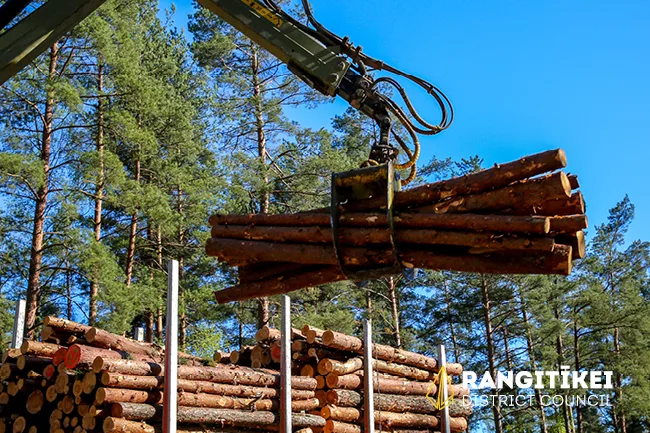 Rangitīkei District Council is seeking insight and feedback from the forestry industry and other stakeholders regarding the introduction of a proposed differential rate for forestry.
The proposed forestry differential seeks to introduce a differential rate to forestry properties to recover some of the costs of repairing damage to roads caused by forestry vehicles.
Rangitīkei District Council's Group Manager of Corporate Services, Dave Tombs says that the Council is seeking more input after receiving feedback on the proposed forestry differential during the 2022/2023 Annual Plan consultation.
"We had a good number of submissions earlier this year, and based on that, Council decided to defer implementing a differential rate until we had the opportunity to work further with iwi, the forestry industry and key stakeholders."
Mr Tombs says that Council's preferred choice outlined in the 2022/2023 Annual Plan was to introduce a 1.5 rate differential on the Roading Targeted Rate for properties that are classified as Forestry.
"This is an approach that has been taken by a number of other local authorities across New Zealand and while it was the suggested approach in the 2022/2023 Annual Plan, we want to hear what other options are available."
Mr Tombs says the first public consultation will take place in November in Hunterville.
"If you would like to share your thoughts, feedback and ideas; we invite you to join us on Tuesday 15 November, 5pm - 6.30pm at the Hunterville Town Hall. Mayor Andy Watson will be present, alongside Council staff."
5pm - 6.30pm
Tuesday 15 November
Hunterville Town Hall
Please RSVP to Michael.Willoughby@rangitikei.govt.nz
If you are unable to attend this event, but would like to stay in the loop about this consultation, you can sign up to the RDC Forestry Differential mailing list here: