Marton to Bulls Wastewater Centralisation Project
---
Project Updates
12 April 2022
The Marton to Bulls wastewater centralisation scope includes 4 subprojects:
Construction of a wastewater transfer pipeline from Marton Wastewater Treatment Plant to Bulls Wastewater Treatment Plant
Purchase land in the Bulls area to dispose of treated wastewater and install irrigation infrastructure
Consenting for the activities
Upgrades to Marton and Bulls treatment plants.
The purpose of this project is to take treated wastewater out of our waterways by conveying it from Marton to Bulls, once here it will be discharged to land. Land is yet to be sourced.
The construction of the pipeline (subproject A) is underway. Fulton Hogan was the successful tenderer for the two-stage procurement, and RDC took the opportunity to bundle multiple works together. After Fulton Hogan has completed the Marton to Bulls pipeline, they'll deliver the Bulls Water Rising Main and Taihape Wastewater Rising Main and Pump Station.
For the Marton to Bulls Wastewater Centralisation project, RDC has set aside $25m for the delivery of all sub-projects. We received $3.88m towards the pipeline construction costs from the Department of Internal Affairs as part of the three waters stimulus funding.
The entire programme and sub-projects are expected to be completed in 2025.
---
13 July
Council's Project Management Office (PMO) ran the first stage of a two-stage procurement process for a contractor to build the 14km pipeline between Marton and Bulls to transfer treated wastewater. The contractor will also build the water rising main in Bulls and the wastewater rising main in Taihape. The PMO was delighted to receive nine submissions, which were all of a high quality.
Four contractors have been shortlisted, and they will receive the tender documents for the final stage of procurement within the next month. Construction is expected to start in late 2021.
---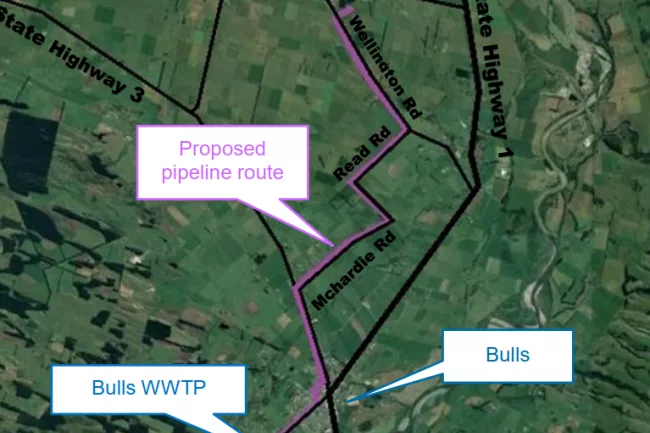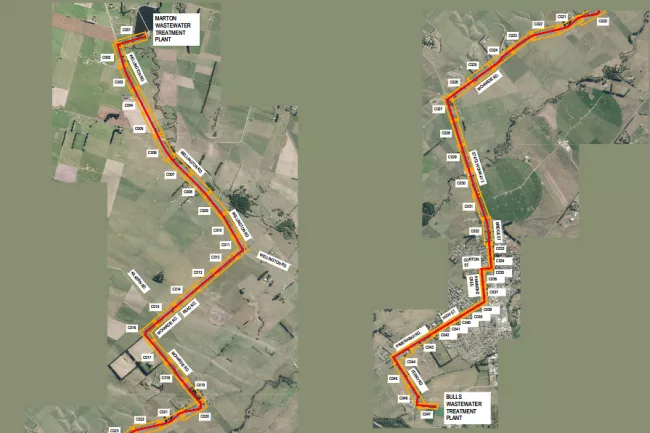 New pipeline route between Marton and Bulls